There will be a meeting January 24th, 2020 from 10AM - 11:30AM to discuss the proposed transformation of Alhambra Circle from Coral Way to San Amaro Dr into a Complete Street.
The City of Coral Gables Public Works Department has been working to provide traffic calming and multi-modal transportation options on Alhambra Circle between San Amaro Drive and Coral Way. A Federal grant application was awarded in 2015 for the project. A public workshop was conducted on September 25th, 2019, at the Coral Gables Memorial Youth Center to gather input from the community to help develop the project, and a walk through along the project corridor was conducted on October 19, 2019. An additional community engagement meeting will be held on January 25, 2020, at the corner of Coral Way and Alhambra Circle.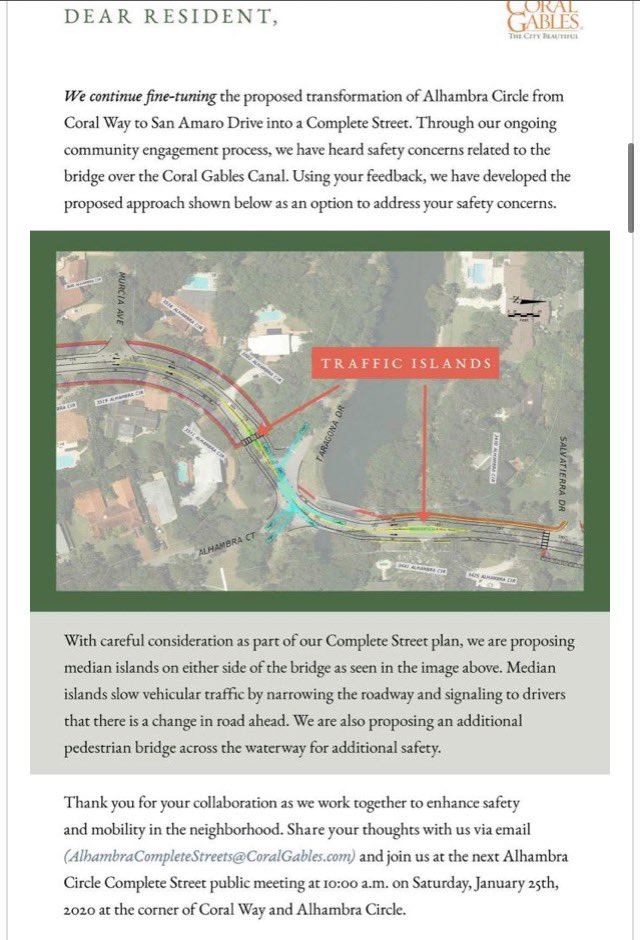 Below are resources from the workshop and walk through including:
With the certain construction of the Underline, following the award of a $22 million grant, residents will be able to safely access this 10-mile linear park by riding bikes or walking from all over Coral Gables should the Alhambra Circle Complete Streets project be constructed. There is no parking provided at the Underline which makes alternative modes a necessity. Read more about the grant award here.
https://www.miamiherald.com/news/business/real-estate-news/article237087969.html